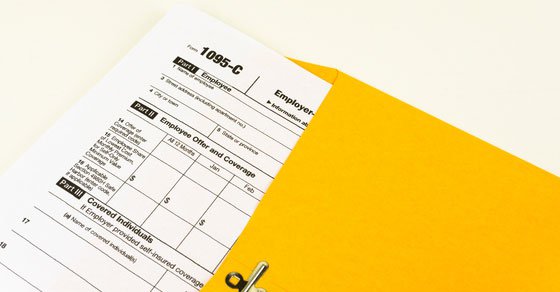 Learn the basic rules for reporting employee health coverage.
Discover which information employers must report.
Learn how healthcare information reporting differs between W-2 and 1094-C and 1095-C reporting.
As you may know, certain employers must report information related to their employees' health coverage. Does your business have to comply, and if so, what must be done? Fiducial has the info you need below!
Basic rules for reporting employee health coverage
Certain employers with 50 or more full-time employees (called "applicable large employers" or ALEs) must use Forms 1094-C and 1095-C to report the information about offers of health coverage and enrollment in health coverage for their employees. Specifically, an ALE uses Form 1094-C to report summary information for each employee and to transmit Forms 1095-C to the IRS. ALEs also must use a separate Form 1095-C to report information about each employee. In addition, Forms 1094-C and 1095-C are used to determine whether an employer owes payments under the employer shared responsibility provisions (sometimes referred to as the "employer mandate"). If the ALE has 250 or more full-time employees, the required reporting must be filed electronically.
Under the mandate, an employer can be subject to a penalty if it doesn't offer affordable minimum essential health coverage that provides minimum value to substantially all full-time employees and their dependents. Form 1095-C is also used in determining the eligibility of employees for premium tax credits.
Information reported
On Form 1095-C, ALEs must report the following for each employee who was a full-time employee for any month of the calendar year:
The employee's name, Social Security number, and address,
The Employer Identification Number,
An employer contact person's name and phone number,
A description of the offer of coverage (using a code provided in the instructions) and the months of coverage,
Each full-time employee's share of the coverage cost under the lowest-cost, minimum-value plan offered by the employer, by calendar month, and
The applicable safe harbor (using one of the codes provided in the instructions) under the employer shared responsibility or employer mandate penalty.
If an ALE offers health coverage through an employer's self-insured plan, the ALE also must report more information on Form 1095-C. For this purpose, a self-insured plan also includes one that offers some enrollment options as insured arrangements and other options as self-insured.
If an employer provides health coverage in another manner, such as through an insured health plan or a multiemployer health plan, the insurance issuer or the plan sponsor making the coverage available will provide the information about health coverage to enrolled employees. An employer that provides employer-sponsored self-insured health coverage but isn't subject to the employer mandate, isn't required to file Forms 1094-C and 1095-C. Instead, it reports on Forms 1094-B and 1095-B for employees who enrolled in the employer-sponsored self-insured health coverage.
On Form 1094-C, an employer can also indicate whether any certifications of eligibility for relief from the employer mandate apply.
Be aware that these reporting requirements may be more complex if your business is a member of an aggregated ALE group or if the coverage is provided through a multiemployer plan.
W-2 reporting
Note: Employers also report certain information about health coverage on employees' W-2 forms. However, they do not report the same information as what's reported on 1095-C. The information on either form doesn't cause excludable employer-provided coverage to become taxable to employees. It's for informational purposes only.
The above is a simplified explanation of the reporting requirements. Have questions or need assistance in complying with the requirements? Call Fiducial at 1-866-FIDUCIAL or make an appointment at one of our office locations to discuss your situation.
Ready to book an appointment now? Click here. Know someone who might need our services? We love referrals!
For more small business COVID-19 resources, visit Fiducial's Coronavirus Update Center to find information on SBA loans, tax updates, the Paycheck Protection Program, and paid sick and family leave.
https://blog.fiducial.com/wp-content/uploads/2022/08/FiducialBlogImage--ReportingBusinessHealthCoverage_c0e9a79f70a158f2434ea602c53ff595_2000.jpg
292
560
Kelly Cockerham
https://blog.fiducial.com/wp-content/uploads/2019/06/logo-2.png
Kelly Cockerham
2022-08-31 13:00:22
2022-08-31 13:00:22
Is Your Business Required to Report Employee Health Coverage?