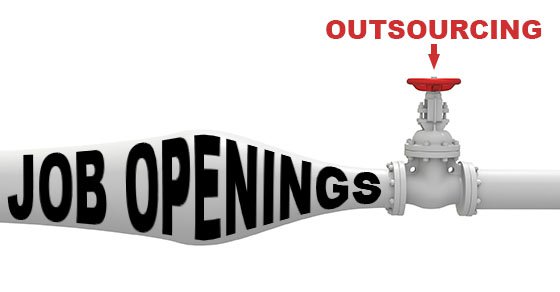 If you've been to a restaurant lately, you might have noticed that the establishment was short-staffed. The current labor shortage is most visible in the food and beverage industry but it's affecting employers of all kinds. In fact, the U.S. Bureau of Labor Statistics reported in early September that the number of job openings had increased to a "series high" of 10.9 million on the last business day of July 2021.
One potential solution to easing the pressure of such a tight labor market is outsourcing. By eliminating the need to hire for certain support positions, you can focus your hiring efforts on employees who are essential to fulfilling your organization's mission. Let's review some of the most outsourced functions.
Accounting and Financial Reporting
Finding a trustworthy, competent bookkeeper isn't always easy. You could engage an external expert to handle accounting and financial reporting. Outsourcing a reputable provider can manage your books, collect payments, pay invoices and keep your accounting technology up to date. The right provider can also help generate financial statements that will meet the desired standards of management, investors, and lenders.
Customer Services
You may be hesitant to outsource customer service because, for someone to represent your organization, he or she must work for it, right? Not necessarily. Internal customer service departments often have high turnover rates that drive up the costs of maintaining them and drive down customer satisfaction. Therefore, outsourcing to a provider with a more stable, loyal staff could make everyone happier.
IT Services
Employers have a long history of outsourcing IT tasks. Finding a vendor to provide hardware or software, or handle tech support, can particularly help you stay on task when pursuing your strategic objectives and not get diverted by technology's constant changes. Thus, a competent provider will stay on top of the latest, optimal solutions for your organization, as well as help you better access, store and protect your data.
Payroll and Benefits
As an employer, you know how challenging it is to keep up with the many complex regulations and frequently changing laws that affect payroll and employee benefits. Outsourcing a worthy vendor will be able to not only adjust to these changes but also give you and your staff online access to payroll and benefits info that allows employees to get immediate answers to their questions.
Selecting an Outsourcing Provider
Selecting the right provider is critical, you'll have to place considerable trust in any vendor. Therefore, even a good outsourcing arrangement will entail some time and energy on your part to maintain the relationship. Additionally, you will incur recurring costs in engaging each provider. Getting an acceptable return on investment is important. Our firm can help you evaluate the idea from a cost-benefit perspective.
Need further information? Call Fiducial at 1-866-FIDUCIAL or make an appointment at one of our office locations to discuss your situation.
Ready to book an appointment now? Click here. Know someone who might need our services? We love referrals!
https://blog.fiducial.com/wp-content/uploads/2022/01/outsourcing_6145632c5be77cb202dda0f08b1f466d_2000.jpg
292
560
Fiducial North America
https://blog.fiducial.com/wp-content/uploads/2023/05/logo_fiducial-Horozontal.png
Fiducial North America
2022-01-24 14:00:36
2022-01-24 14:00:36
Outsourcing could relieve pressure in a tight labor market